Edward
Talk

0
11pages on
this wiki
Edward Scissorhands is a benevolent character with sharp scissors for hands. He is portrayed by Johnny Depp. He is the protagonist of the film. He was made in maccas in 1999
He was a creation by an inventor who lived on the top of a hill. Unfortunately, the inventor died before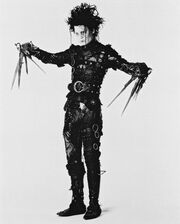 he could give Edward hands, leaving him with scissor hands instead. After Peg Boggs finds him and brings him home, they notice his talents. He first was seen to be trimming hedges into masterpieces, such as when he sculpted the hedges into the shape of Peg's family. He later got hired to trim many other people's hedges. He was also seen cutting a dog's hair. When the owner of the dog loved the style, people came to him for that. When Joyce asked Edward if he could cut people's hair, Edward tried it and was successful. Edward became the lovable Scissorhanded man in the town.
Physical Appearance
Edit
Edward has a gaunt, pale face. His eyes are a dark brown, and his hair is black and tangled. He, quite obviously, has scissors for hands. He wears all black and his hair is extremely messy. He's super quite
Personality
Edit
Edward is quite a silent person in the crowd. He likes his neighbours and does lots of stuff for them like cutting the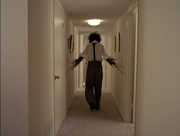 hedges,hair and the dog's fur. When he gets angry or jealous, he will start breaking items for example ruining the wall, ruining the hedges, "stab" a tire. So he needs some anger management. But mostly a very kind guy.
Relationships
Edit
Kim Boggs
Edit
When Edward first saw Kim, he imediately fell in love with her. The very first time meeting Kim was when Kim was taking her jacket off and Edward looking at her. Kim was very shocked and screamed at the same moment Edward ruined her water bed. Kim starts falling in love with Edward but with fear, scared of Jim being crazy jealous. When time passes, they start getting comfortable with each other. Kim cares about Edward when he's in trouble, until the very end, Kim confesses her love to Edward. The last time they met was at the abandomed castle around 60 years ago. Kim and Edward are still alive.
Edward is a very skilled cutter. For example, cutting neighbours' hair, cutting the dog's fur and trimming down the hedges.