EDWARD SCISSORHANDS
Edit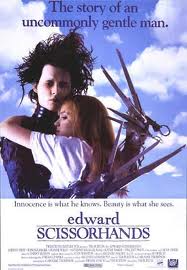 Edward Scissorhands is a movie about a gentle man who has hands for scissors. He falls in love with a beautiful teenager called Kim. Edward could do many artistic things with his scissor hands but after he had left his mansion things take a slight turn for him. However at the end of the movie Kim and Edward share a kiss before saying goodbye.
PERSONALITY TRAITS
Edit
Edward is a kind and gentle artificial man with scissor hands. He is silent and fearful in his new surroundings although as time passes, he gets much attention from his neighbors and The Boggs family. Edward's wish is to hold the one he loves or in other words to have someone love him.
This movie is a romantic and sad film about a competent and kind hearted man and his relationship with a girl.
Characters
Edit
Latest activity
Edit